Ruislip Local History Books
Ruislip Local Interest and History Books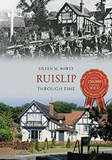 Buy local history and local interest books here. Most of these books will make an excellent and unusual gift.

Depending on the link below you can purchase either directly from Amazon of the author themselves
(sometimes via Ruislip Online)
Please note we have no control over prices being asked for these books.
All products should show the price against the listing.
Unless stated otherwise the synopsis is not the opinion of Ruislip Online
Ruislip Local History Books appear below
Also See page on Eastcote History Books Linked Below
Eastcote History books: Local historian Andy Weller has written a number of books that focus on specific places in Eastcote. These books are all listed together on a page here that we have written for him. Prices quoted include delivery and PayPal fees, if you are able to collect from Eastcote and pay cash then you could get them cheaper that way.
---
Author
Or

Publisher etc.

Title

Comments

Buy here

The items below all have connections with Ruislip but some are more general.

I have tried to put those with more of a direct Ruislip connection towards the head of the list

Chris Ladyman and Robert Schmilt
The Ruislip Lido Railway
New in 2020 and on a very limited print run read the facinating history of The Ruislip Lido Railway from instigation to the present day.




The Ruislip Lido Railway has been a delight to all since it was established in 1945. For the first time ever, and with never-before archive photos, this book explores the history of the line and delves in to the work of the Ruislip Lido Railway Society.; explaining how it was transformed into the extensive system seen today.

All proceeds from this book will go towards maintaining and improving the Ruislip Lido Railway, so it can continue to provide enjoyment for many years to come.

Cost is around £15. You can buy it from the Railway Station at the Lido

or online from the page here

Eileen M Boult
Ruislip Past
This history of Ruislip, Northwood and Eastcote brings to life the rural past of what are now suburbs of London. Reminders of many historical periods abound. Earthworks surround a possible Saxon settlement. A moat and mound reveal a possible Norman castle. The church and the Great Barn were built when monks of the Abbey of Bec lived on what is now Manor Farm. More than forty of the cottages mentioned in 16th century documents can still be found among modern houses, Once again, as with many outlying areas, the railway from 1887 made the area accessible to visitors - Londoners in search of rural scenery - and then to ramblers, builders and settlers.
Eileen M. Bowlt
Around Ruislip: People & Places Paperback – 1 May 2007

Illuminates many aspects of Ruislip, Northwood, Eastcote, Harefield and Ickenham in years gone by. This book includes anecdotes which range from medieval times when Ruislip boasted a small castle to a First World War munitions factory, a Cold War American airbase, and pioneering medical research at Mount Vernon, Northwood, in the 20th century.

Eileen M. Bowlt
Ruislip Through Time
Ruislip is first mentioned in the Domesday Book of 1086. The short description 'Rislepe' reveals a heavily wooded and thinly populated area with land for twenty ploughs. An unusual feature of the landscape was 'a park for woodland animals', the northern pale of which survives as Park Wood, a scheduled ancient monument. As many of the people mentioned in the survey would have been heads of families, the population was probably between 200 and 250. The area of the manor of Ruislip in 1086 is likely to have been the same as in later times, being bounded on the north by the boundary between the counties of Middlesex and Hertfordshire, and by the parishes of Northolt to the south, Harrow on the east, and Harefield and Ickenham on the west. Local historian Eileen Bowlt charts the history of this picturesque town, explaining its development and growth through a selection of fantastic photographs.
Dennis Edwards
Ruislip, Ickenham & District (Britain in Old Photographs)
This superb collection of over 200 historic photographs gives an unforgettable impression of Ruislip, Ickenham, Eastcote, Northwood and Harefield in the late nineteenth and early twentieth centuries. The pictures show the dramatic changes that have taken place in the area over the last 100 years. Muddy lanes, meadows and woods gave way to the neat rows of suburban houses, the shopping parades and the Underground stations of Metroland. The book offers an evocative insight into the changing lives and living conditions of the local people, and it recalls familiar streets and districts as they developed. It also provides a lasting record of houses and public buildings, shops and businesses and pubs that have vanished or been altered almost beyond recognition. Dennis Edwards has brought together a remarkable selection of mostly unpublished photographs and has drawn on his unique knowledge of the history of the district to create this fascinating glimpse of the recent past. The publication of so many rare photographs in this book will add to the knowledge, appreciation and enjoyment of everyone who takes an interest in this distinctive part of Middlesex
The History Press
Around Ruislip (Archive Photographs S.)
Pamela D Edwards
Ruislip and Uxbridge (Bygone Series)
Colleen A Cox
A quiet and secluded spot: Ruislip, Northwood & Eastcote 1851-1881
Ruislip, Northwood & Eastcote Local History Society (1 Jan. 1991)
Eileen M Boult
Ruislip 1939: Middlesex Sheet 10.09 (Old Ordnance Survey Maps of Middlesex)
Detailed map of Ruislip; Middlesex Sheet 10.09. Introduction by Alan Godfrey. This detailed map covers much of Ruislip, a town that developed rapidly in the early 20th century. Coverage stretches from Hill Lane and Heathfield Rise eastward to Myrtle Avenue, and from Evelyn Avenue southward to Westfield Way. Features include the town centre with all buildings neatly delineated, Metropolitan railway with Ruislip and Ruislip Manor stations, GWR with Ruislip & Ickenham station, cinemas, schools, Kingsend Farm, River Pinn, Sherley's Farm, churches, St Martin's church, Windmill pub, St Paul's church, Manor Farm etc. On the reverse we include a 1933 directory of Ruislip and Eastcote.
Walter W Durrent
Ruislip-Northwood Through the Ages.
This is a fascinating story in which the author has traced historical connexions of Ruislip-Northwood through the ages. It reveals the characteristic of large, stately homes, the life lived in the days of yore by a sparse population and the predominance of productive farmlands and wide-spread woodlands where history has it wild animals used to roam.
Michele Hanson
What the Grown-ups Were Doing: An Odyssey Through 1950s Suburbia
Michele Hanson grew up an 'oddball tomboy disappointment' in a Jewish family in Ruislip in the 1950s - a suburban Metroland idyll of neat lawns, bridge parties and Martini socials. Yet this shopfront of respectability masked a multitude of anxieties and salacious goings-on. Was Shirley's mother really having an affair with the man from the carpet shop? Did chatterbox Dora Colborne harbour unspeakable desires for Michele's sulky dad? Whose Battenburg cake was the best? An atmosphere of intense rivalry prevails, with Michele's mum suspicious of her non-Jewish neighbour's personal habits, and Michele very wary of children's games like 'Doctors and Nurses' that might bring bottoms into the equation. And with glamorous, scheming Auntie Celia swanning around in silk dresses demanding attention, Michele has a lot to contend with. Only the annual holidays to the south of France relieve the tension. This hilarious and wonderfully evocative memoir charts Michele's childhood and coming of age in a Britain that was emerging from post-war austerity into the days of 'you've never had it so good'. It is a characterful and affectionate look at a way of British life long since disappeared but one for which we continue to hold huge affection.

-------------------Line break---------------

Geographers' A-Z Map Co Ltd
A-Z Harrow and Ruislip Atlas (A-Z Street Maps & Atlases S.)

Tanya Britton
Ruislip, Eastcote and Northwood During the First World War
The First World War changed the lives of Hillingdon's residents forever.

This fascinating volume, the result of seventeen years of research by a Hillingdon historian, contains a comprehensive look at the Home Front in Ruislip, Northwood and Eastcote. What were the duties of the Special Constables? Where were wounded residents treated? What was health like during this time? Was housing affected by air-raids, or by overcrowding?

Richly illustrated, and with full details of the lives, and deaths, of each of the local men who fell during the conflict, it commemorates the magnificent sacrifice and the unbreakable spirit of the residents of Hillingdon during one of the greatest conflicts the world has ever seen.
Peter Hounsell
Ruislip (SE) 1940: Middlesex Sheet 10.14
Detailed map of Ruislip (SE). Middlesex Sheet 10.14. Introduction by Peter Hounsell. This very detailed map covers the SE part of Ruilsip and parts of Harrow and Northolt. Coverage stretches from Bridgwater Road eastward to Carlyon Avenue, and from Shaldon Drive southward to Walnut Way. Features include LNER and GWR railways with South Ruilsip & Northolt Junction station, west part of Northolt Park racecourse, Francis Organ Works, schools and streets of housing, much of it from the 1920s and 1930s. On the reverse we include a 1929 railway timetable for the London to High Wycombe line.
Eileen M Boult
The Goodliest Place in Middlesex: Being a History of the Ancient Parish of Ruislip
Title on front cover:- "The Goodliest Place in Middlesex: a History of the Ancient Parish of Ruislip from the Domesday Book to Modern Times."
Leslie Thomas
Tropic of Ruislip
TROPIC OF RUISLIP is a sage for life on a modern executive housing estate, seething with the fears, snobbereis, frustrations and lusts of well-heeled young couples trundling uneasily towards middle age.

(It is a great read but actually based of the geography of Carpenders Park and makes only fleeting mentions of Ruislip/Eastcote: ROL)

Link to come hopefully

Nicci Rae
Mad Bess Wood
If you go down to the woods today.......... For New Yorker Gus Freeman, a visit to England fulfils a lifelong dream - and breeds a lifetime of nightmares! When her beloved best friend is killed in a drug-related shooting, Gus Freeman's world is turned upside down and, after an unexpected windfall, she decides to take a break from her dead end job and make the pilgrimage to England to walk in the steps of her hero, Lord Byron. Her trip takes her from the imposing Harrow School to Byron's seat of learning in Cambridge where a chance encounter leads her back to London and to a quaint inn called The Six Bells. Despite it's charming facade, The Six Bells has it's secrets and when Gus befriends a seemingly friendly local couple she discovers that some secrets are buried deeper than others. When the line between worlds blurs, a door to the past is opened, and, as her search for the truth reaches it's terrifying conclusion, Gus comes to realise that the answer lies - restlessly - in nearby Mad Bess Wood.
Linda Stratmann
Middlesex Murders (True Crime History)
Middlesex Murders brings together numerous murderous tales, some of which were little known outside the county, and others which made national headlines. Contained within the pages of this book are the stories behind some of the most heinous crimes ever committed in Middlesex. They include the murder of John Draper, whose body was found in a well at Enfield Chase in 1816; 15-year-old John Brill, found beaten to death in a wood in 1837 after giving evidence against two poachers; and Claire Paul, killed with an axe at her home in Ruislip in 1938. Linda Stratmann's carefully researched and enthralling text includes much previously unpublished information and will appeal to everyone interested in the shady side of Middlesex's history.
Dennis Edwards
Ruislip, Ickenham and Uxbridge in Old Picture Postcards
No further information seems to be available (ROL)
Parish Church, Ruislip: A Service for Peace and Remembrance at Armisicetide
No further information seems to be available (ROL)
Ruislip W.E.A. Local History Class
'Here lyeth': Life and death in Ruislip, 1700-1900
No further information seems to be available (ROL)
Tony Parkins
Chiltern Take Two: Paddington-West Ruislip & Marylebone-Banbury DVD
Driver's Eye View: Paddington to West Ruislip (class 50) & Marylebone to Banbury. (DMU) Narrated by Philip Hayton. This shows the old Great Central/Great Western Joint line running through High Wycombe and Princes Risborough etc. The joint line actually starts at Northolt Junction in Middlesex and runs to the one time Ashenden Junction in Buckinghamshire. Both the GWR and the GCR built their own connections to this joint line, the former out of Paddington and the latter from Marylebone. Here we experience them both, starting out from Paddington aboard what was in 1989, the only passenger train of the day still to use the old GWR link. The 18.12 commuter express hauled by class 50 "Ark Royal" takes us via Old Oak Common West Junction through Greenford to Northolt Junction ("Take One"). "Take Two" shows the GCR link from Marylebone aboard a first generation DMU (class 115). At the time of filming this was London's last Terminus to be signalled by semaphores. This time we go right through Northolt and all the way to Banbury. The high spot, is High Wycombe which was little changed since steam days and boasted an amazing array of points and semaphore signals. Along the route there are also snippets from within many of the mechanical and power signal boxes just before the total route modernisation swept most of them away. Written by Tony Parkins of Chiltern Trains. Running time - 94 minutes DVD only
Tanya Britton
Ruislip-Northwood and Eastcote War Dead 1914-1918
A list of the war dead from Ruislip-Northwood and Eastcote using a variety of sources including local papers, regimental histories and regimental diaries.
Barnes Carr
Operation Whisper
Meet Morris and Lona Cohen, an ordinary-seeming couple living on a teacher's salary in a nondescript building on the East Side of New York City. On a hot afternoon in the autumn of 1950, a trusted colleague knocked at their door, held up a finger for silence, then began scribbling a note: Go now. Leave the lights on, walk out, don't look back. Born and raised in the Bronx and recruited to play football at Mississippi State, Morris Cohen fought for the Loyalists in the Spanish Civil War and with the U.S. Army in World War II. He and his wife, Lona, were as American as football and fried chicken, but for one detail: they'd spent their entire adult lives stealing American military secrets for the Soviet Union. And not just any military secrets, but a complete working plan of the first atomic bomb, smuggled direct from Los Alamos to their Soviet handler in New York.

Their associates Julius and Ethel Rosenberg, who accomplished far less, had just been arrested, and the prosecutor wanted the death penalty. Did the Cohens wish to face the same fate? Federal agents were in the neighborhood, knocking on doors, getting close. So get out. Take nothing. Tell no one. In Operation Whisper, Barnes Carr tells the full, true story of the most effective Soviet spy couple in America, a pair who vanished under the FBI's nose only to turn up posing as rare book dealers in London, where they continued their atomic spying. The Cohens were talented, dedicated, worldly spies―an urbane, jet-set couple loyal to their service and their friends, and very good at their work. Most people they met seemed to think they represented the best of America. The Soviets certainly thought so.