Ruislip Lido Information
Ruislip Lido Web Site With Car Parking information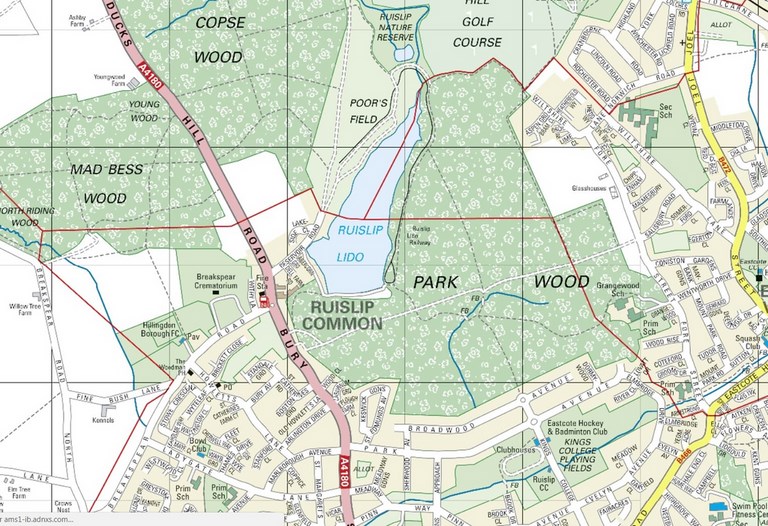 Directions to Ruislip Lido are below.
For all other intformation please go to our Ruislip Lido Website.
---
From Central London

Leave central London on the A40 signposted Oxford. Pass Northolt Aerodrome (where, apart from the long fence to your right just after the Polish War Memorial Roundabout, the short lampposts indicate that you are passing it). About one mile after this comes Swakeleys Roundabout, where this actually comes a short way after the junction just beyond the aerodrome. Turn off at Swakeleys Roundabout and turn right, signposted to Ruislip or Ickenham. (NOT in the direction of Uxbridge).

Next comes a roundabout signed left to Harefield, go straight on. You will quickly come to another, smaller, roundabout signed left to Harefield, turn left here.

Stay on this road for about one mile and you will see a pub called the Breakspear Arms standing on a junction. Turn right immediately before this pub. Stay on this road to its end and then turn left. Almost immediately on your right you will see what was a petrol station, turn right just after this and the Lido may be found at the end of this road, where you will also find a car park.


---
Public Transport

It is not that easy to get to by public transport. You need to get the tube to Ruislip Station and then the H13 bus from the bus garage outside which goes to the Lido, (or the 331, which stops by the Six Bells Pub nearby. Ask the driver to tell you when he/she stops at the nearest stop).

From Ruislip Station you could get a taxi if you wished, just outside to the right as you exit are Personal Cars, telephone 01895 624444, distance about 3 miles to the lido.

Local directions

People seem to find Ruislip and then get lost!

In a nutshell find Ruislip High Street. At the roundabout the northern end of it (so away from the station and traffic lights near it) at the point where it meets Eastcote Road leave on Bury Street, signposted as A4180 to Northwood and Rickmansworth. After about one mile on this road look for a petrol station on a mini roundabout on the left AND THEN what was a petrol station on the RIGHT, and turn RIGHT down the side of the FORMER PETROL STATION into Reservoir Road. The car park is at the end of this road.

DO NOT PARK ON THE MAIN ROAD with two wheels on the grass, if you do you will get a ticket.

CAR PARKING IS CHARGED FOR but if you are local and have a "Hillingdon First Card" then discounts may apply and there a different car park for such card holders.

See the page about the car park at the Lido