Manor Homes - The Building of Ruislip Manor
(It should be noted that the comments made here are entirely the views of Ruislip Online. Factual accuracy should not be relied on. However, the writer has lived in one "A" and two "B" types. Almost all pictures have been taken at random. If you see your own house here and have a problem with it being on the site you are invited to contact Ruislip Online)
---
Plans of Manor Homes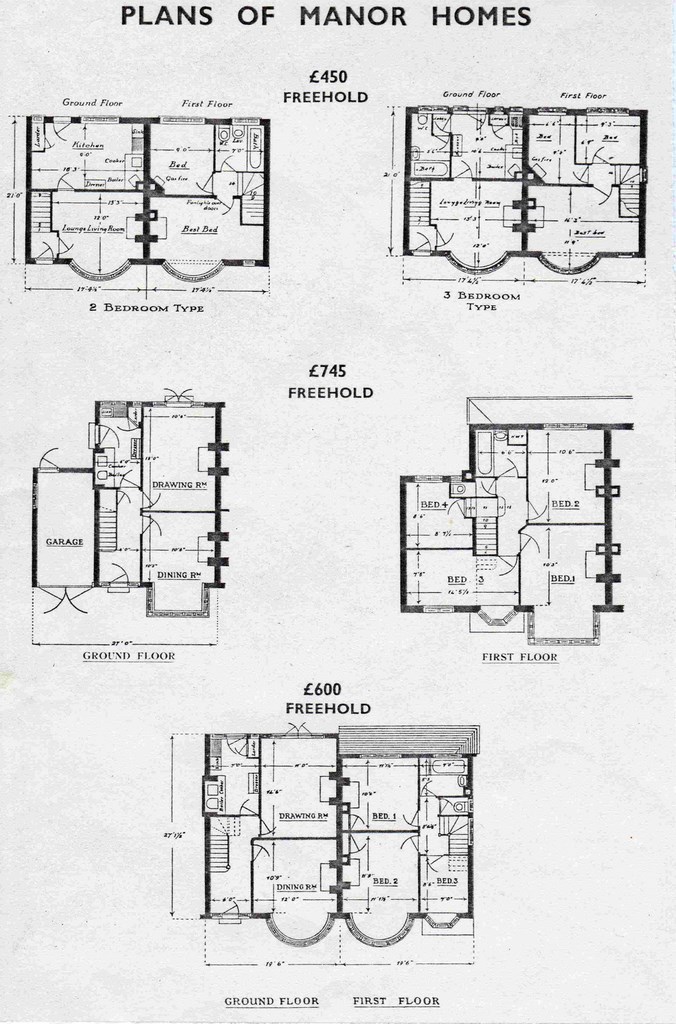 History
Ruislip itself has a great variety of houses, built by various builders and in various styles.

Conversely Ruislip Manor, built in the 1930's has only two types of house, the "A" and the "B". This page will concentrate on these houses only; Ruislip Manor, a sprawling estate built in the 1930's. Although this page describes houses as "A" and "B" it seems that this is a description dreamt up by estate agents as when first built they were not sold with such a "label".
First and foremost there is an inaccuracy running through this page right from the start, in calling it a page about Ruislip Manor, I am mindful that it is really about the housing style of Ruislip Manor and the houses do extend into South Ruislip as far down as (but not including all of) West Mead and Melthorne Drive, and equally some parts of Ruislip Manor have "Ruislip" style houses. Broadly however, it covers just about every house in Ruislip Manor.

The plan was to build affordable housing on a scale never really seen in this part of the country before. Whereas until now property in the area had been aimed at the middle classes, financially, these properties were to be aimed at the man in the street. With the expansion of the railway (Underground) out towards Uxbridge putting a workforce within striking distance of central London made financial sense all round.

So it was that a developer, George Ball, operating under this remit, built most of the houses in Ruislip Manor, under the name of, unsurprisingly, Manor Homes, between 1933 and 1939. All 2,238 of them!

Prices for the houses themselves were from £450 for a terraced "B" type, at around the same time cheaper semi's in Ruislip were selling for around £700, a little under 60% dearer, and larger semi's at around £1,000+.
The "A" type Manor Home

These were built in terraces of, generally four or six houses, but there were some built as semi's.

"A" type houses are generally larger than "B", or, as the name "suggests" better.

They were all built to a similar style, a style that is seen up and down the country. Enter via the front door in to a rectangular hall, with stairs leading off. Three doors off the downstairs hall to living room, dining room and kitchen, upstairs two double bedrooms, third "box" room, bathroom and separate loo. They also had a useful full height storage area under the stairs.

In the Ruislip Manor area these houses can be distinguished against the "B" type by looking at the bedroom window over the front door. Most have small oriel bays though some had flat fronted windows with twin panes, the "B" type had a smaller single pane window.

However, "A" type houses though arguably better than "B" were nearly all built on main roads, so whilst more desirable due to their size, they are generally less so due to location. They may be found on the following roads, listed here in order of their desirability, "best" roads first, i.e. least traffic.

Dartmouth Road (part of)
Thurlstone Road
Torcross Road (not all in same style)
Cornwall Road
Torrington Road
Victoria Road

Victoria Road is blighted by heavy traffic and many people simply would not want to live on it, when the same house may be available locally on a quieter street, so whilst houses on it may look like better value for money it is a case of "buyer beware" as selling a house on this road will not be as easy, and hence a price adjustment may be required.

Interestingly the first few houses on Torcross Road where it leads off Victoria Road are B types, and there are houses of varying styles on the road, though most having the "A" layout. Whilst Dartmouth Road also has a mix here the split is more or less 50/50.

"A" type houses were built as both three and four bedroom type, where the few and far between four bed styles boasted an integral garage with bedroom above.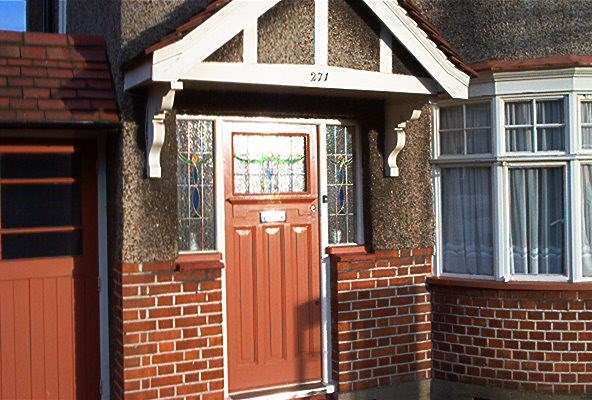 A typical "A" type Manor home. Note the original Crittall windows in the bay and leaded lights in, and either side of, the door.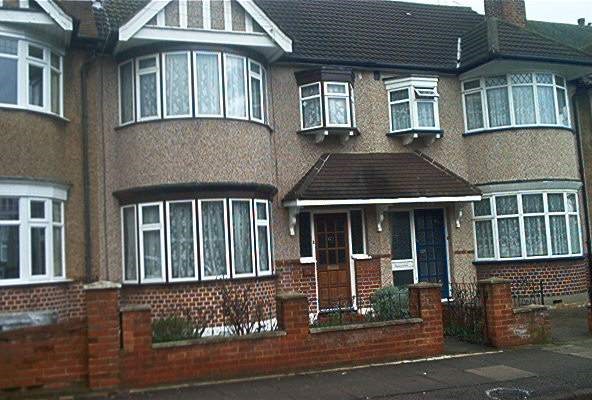 Typical "A" type centre terraced house, note how the arrangement over the front door differs from the one in the picture above, and the small oriel bay over it.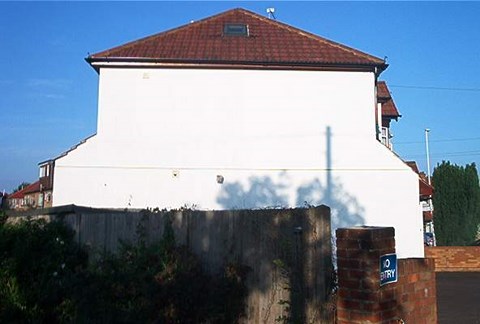 You might think that they were all the same, surely a three bed "A" is a three bed "A"? Wrong. Even in the 1930's the builders had tricks up their sleeves. Some of the houses had chimneys on the front and back roofs whilst others had a single chimney on the apex, those with front and back chimneys have larger rooms inside, whilst looking more or less identical from the front. The clue is in the back wall which stepped back slightly at first floor level! These having the stepped back wall can be seen on Cornwall Road, from where it meets Torrington Road up to Rosebury Vale.
In an attempt to make the houses look more exclusive they had some leaded light windows, generally to the front door and adjacent windows though some of the end terrace ones had leaded lights to the landing window, exact styles varied, all were well done. There is no doubt that this worked, externally this, coupled with a mock Tudor gable(s) to the front, meant these looked very handsome houses indeed.

A number of these houses, mainly the ones at the end of the terraces, have a small gable over the front door. For some reason most of these were built leaning forward slightly.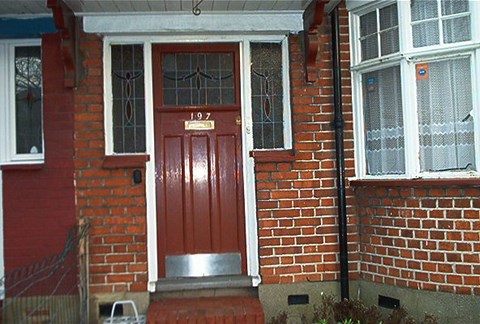 "A" type Manor Homes
The "A" type house, though adequate, was by no means a large house. However, find one that has been extended to the rear and you have found a house with ample accommodation for a family, such a shame they were not built like this originally. Some end terrace ones have also been extended to the side where space allows and again these now make for spacious desirable properties.

Centre terrace ones have large lofts and these could be, and sometimes are, converted in to bedrooms. Find an end terrace one with a substantial extension to the side and rear, and this gives you a sizable property. One such house in Ruislip Manor thus converted now operates as a five room B & B, each with en-suite! It should be noted that any two story extensions in Hillingdon done to the side of a property now must be at least one metre in from the external boundary of the plot (see pictures in the "B" type section).

Buying an "A" type house

Generally the houses were well built and Ruislip Manor tends not to suffer from subsidence. As with any house the most important thing is the position, expect to pay less for a house in Victoria Road than one in Dartmouth Road of comparable size.

If you are thinking of buying in Victoria Road and the house has not had a new roof have this thoroughly checked out, the same applies for Torrington Road. The lorries going up and down these roads have caused extensive damage to tiles through vibration, lorries have now been banned from Torrington Road.

Check the chimney(s) (see above) and try to see both types and take a tape measure and check room sizes, don't rely on agents sizes.

Originally these houses had metal framed Crittall windows which rusted, and the wooden frames rotted. Many of these have now gone, if you buy a property with these windows expect to be either a keeper of a baby in need of constant care, or expect to fork out to change them. If you get one with the original leaded light windows in the doors then my advice is to try to retain them!
The houses, when built, like all houses of their age, were plumbed in lead, if this remains then you are looking at a major job. Lift off a couple of power points and light switches and check the wiring to them, if it is in PVC then this shows the house has been rewired, if there is two/three core rubber insulated wire there then get it rewired NOW or, if you have yet to buy the house, run outside, for this wiring, if it still remains, will be lethal.

Tiles in the bathrooms and kitchen were fixed using mortar that set as hard as rock. Many people tiled over these rather than removing them when making improvements. If the house still has the original black and white tiles then bear in mind that they will take some getting off. Walls generally were also very hard, and built without cavities. Damp proofing was generally good.

The "A" type houses had very attractive internal panelled doors, some "B" types also had these doors. During the 60's the trend was for plain doors. Barry Bucknel told everyone to cover these with hardboard....

"A" type houses normally had a separate chimney for the boiler The boiler was located in the kitchen and these chimneys were to the side on end terrace, or the rear on centre terrace. These tall slender chimneys have been known to give trouble and should be checked, or if not in use, removed.
The "B" type Manor Home
The "B" type Manor home also, confusingly, has several different varieties! Again built in terraces much like the "A" type generally the terraces were longer, although a few built as semi's exist. There were substantially more "B" type houses built than "A" type in Ruislip Manor.

In a nutshell those with a full bay were either two bedroom, or three bedroom with a downstairs bathroom. Those with a "half bay" were known as "suntrap style" and generally were the same but had a hall to the front and the kitchen located in an extension on the rear. Odd houses had two story rear extensions. However whilst the front of one may make you think it is a "suntrap" style, the interior may be of the other type, so although there is a pattern it is by no means a theme. These houses can be easily distinguished against the "A" type by the fact that the window over the front door is a single pane about 18" wide, "A" type houses have either small oriel bays or twin panes. On the "B" type this window normally is not that for the third bedroom, on the "A" it is. "B" type full bays have six windows, "A" type seven.

Generally these houses were built on the smaller side streets, OK in their day but with almost everyone now having a car these roads can be difficult, if not impossible, to find a space to park in today.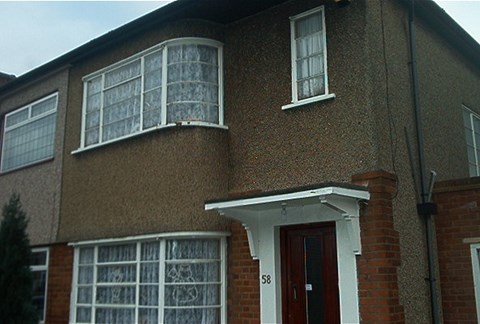 A "Suntrap" styled "B" type house in Ruislip Manor. This would probably have two decent bedrooms and a bathroom upstairs.
There is no doubt that the "B" type was a cheaper, smaller, house. Indeed three bedroom houses had only one living room to the front measuring around 15' x 13' a 9' x 8' kitchen and a tiny bathroom leading off it almost tucked under the stairs downstairs. Upstairs there were the aforementioned three bedrooms, one, actually quite sizeable double and the other two really only singles. The two bedroom ones were the same, except the kitchen/diner across the back meant downstairs felt more spacious, at the expense of a bedroom upstairs for the bathroom.

The suntrap ones, with their slightly larger interiors, off set by arguably less attractive facades, were slightly better, but again by no means large.

"B" type houses today.

Much like the "A" type over the years some of these houses have seen substantial alterations. A centre terraced three bedroom "B" type is really only a very small house, but much like the "A" type add any extension and it could make a world of difference. Obviously the centre terrace house can only be extended to the rear, though some have had loft conversions these lofts are much smaller than those in the "A" type. Many of the end terrace ones have been extended beyond all recognition. It should be noted that any two story extensions in Hillingdon done now must be at least one metre in from the border of the plot, but several were extended before this rule was brought in, meaning if you buy with a view to extending make sure you what you have mentally planned is allowed!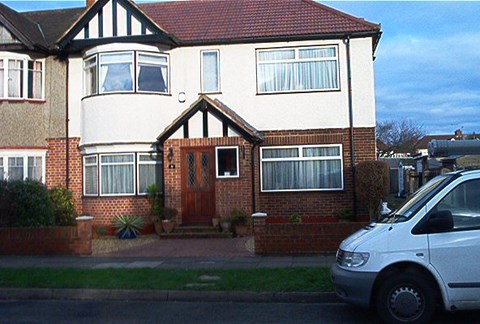 An extended "B" type with pitched roof over the side extension on the right of the front door.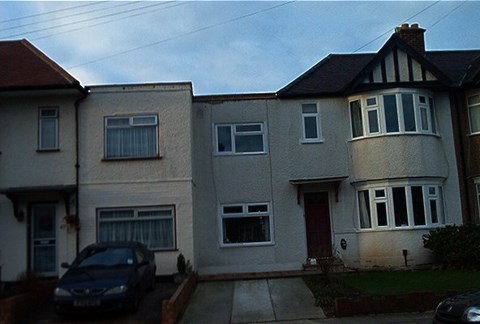 A pair of B type homes where each has been extended and such extensions appear joined together. This would not be allowed today as if two stories high the whole extension has to be one metre from the boundary.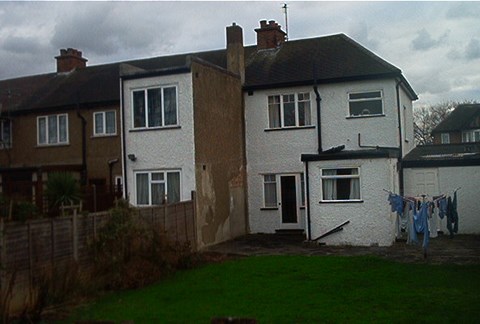 A "B" type with rear extension built like this from new. There is no way of telling from the front that the house has the extra space, not that many were built like this.
Buying an "B" type house

See the section about the "A" type, more or less all hangs true for the "B" type also.

However, as mentioned above, the main problem for the "B" type is that most were built on narrow roads and having no garage space. Off street parking is a major plus point for such a property. Having said that Whitby Road is a busy, narrow, road and Beverley Road up as far as Filey Way is also surprisingly busy, and Filey Way itself, with traffic avoiding the right turn in to Victoria Road from the end of Whitby Road, entering at the roundabout instead.

Other busy roads with "B" type houses on include Chelston Road/Approach and Sidmouth Drive, but none of the aforementioned are usually as busy as Victoria/Cornwall/Torrington Road.

Ironically, un-extended, the three bedroom ones, with the downstairs bathroom, are more difficult to sell that the two bedroom ones with the upstairs bathroom.

You might be better off with an extended "B" type with off street parking than an "A" type without, only you can decide but it is worthy of consideration.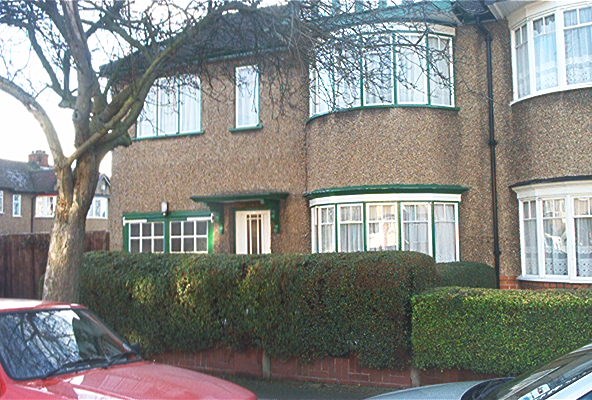 A unique house in Ruislip Manor, this was a B type built with a side extension and garage under. The only one of it's kind and sadly now no longer existing in this form. Seen here with original doors and windows.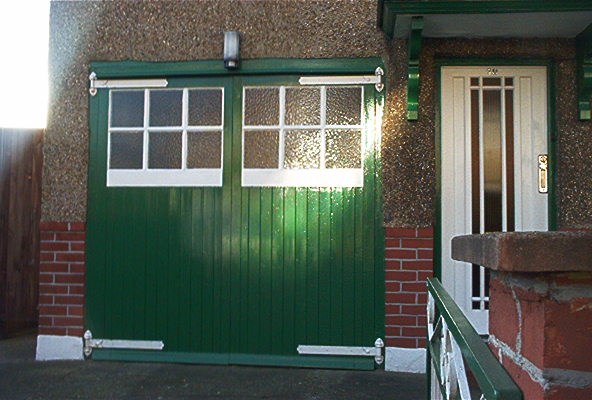 The same house but here a close up of the entrance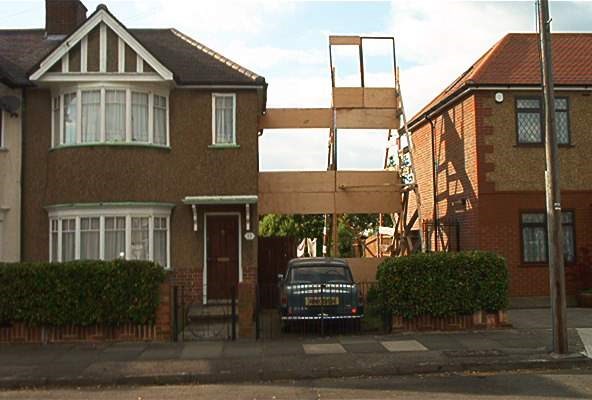 This is perhaps one of the stranger stories surrounding a B type Manor Home! Hillingdon Council accidentally gave the owner of this house permission to build a three story extension on what is a two story house.

The owner quickly set to work before the council realised what they had done and built the facade in WOOD in around 2009 and then replaced it with a breeze block extension.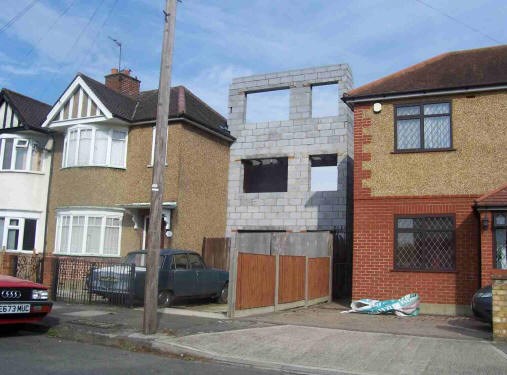 However, there was a catch. Although the extension could be three stories high because of the square footage allowed in this "permitted development" it could only be about four feet deep on each floor. Permission to make this deeper was applied for and refused.

The third story was removed in about 2013 but in 2018 the two story extension still stands, basically unchanged save for one floor from the picture above.
The same house in 2018