Elm Park Dining Club
Leaflet with more information
Leaflet with more details below (Opens PDF)
---
Find the Club on Facebook here
---
Prices correct 2022. Annual membership £5.00. Meals (lunch) around £5.00 for 3 courses
Elm Park Dining Ruislip Manor


Tudor Club Eastcote (foot of page)




Older persons food and companionship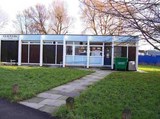 Elm Park Dining Club

Especially for the over 60's

Why stay at home? Find a friendly welcome at:-

Elm Park Club

Park Way

Ruislip Manor

01895 634 962
"You may have noticed a small building on the green space behind Ruislip Manor station on Park Way? Ever wondered what goes on within? Well, we are a little gem in the heart of Ruislip!

Conveniently located on the H13, 114 & 398 bus routes and just 2 minutes walk from Ruislip Manor station, The Elm Park Club is a members only luncheon club for the over 60's, through a small annual membership fee. We are a charity, open every week day, providing a healthy 3 course, home cooked lunch. This is all freshly prepared and baked by our experienced cooks, on our premises.

It really is a lovely, friendly place to come for some good wholesome food, at a subsidised rate - and to have a chat and some company.

We have after lunch activities 4 days a week - including the ever popular games of Bingo, Scrabble and an art and craft club. If you care to join us, we also enjoy days out, occasional holidays, weekend activities and entertainment at the club on a regular basis."
Visit the web site for Elm Park Dining here